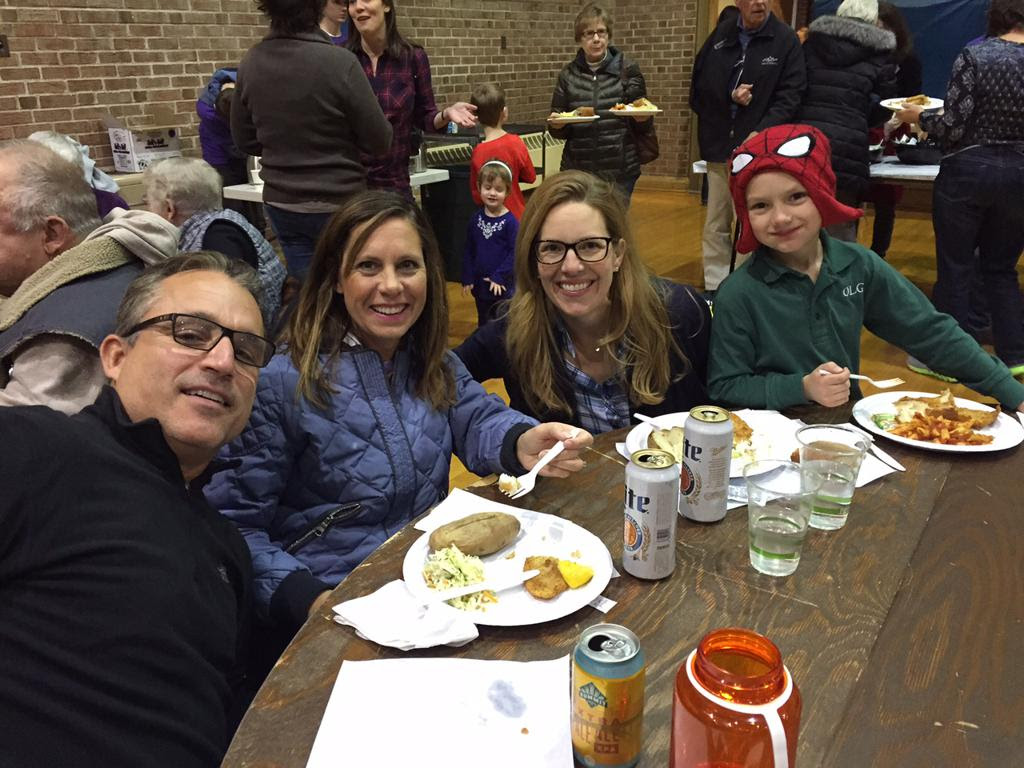 Date: St. Patrick's Day, March 17
Location: OLG Cassidy Hall and School Gym
Time: 4:30p – 7:30p
Join the entire OLG parish community on Friday, March 17 at the annual Lenten Fish Fry and Pasta Bar. This year will be a special year as we celebrate St. Patrick's Day with everyone's favorite Irishman, Fr. Kevin!
Enjoy the Twin Cities best fish fry hosted by Lake Calhoun and Braemar's Tin Fish, Buci di Beppo pasta bar and assorted side dishes. And yes, it's all you-can-eat! Don't have time? No problem; the drive-thru opens at 4:30p.
Entertainment will include the big band sound in the school gym and international ethnic (can you say Irish?) accordion music by Mark Stillman in Cassidy Hall.
Purchase tickets before and after all weekend masses in March or at the school and parish offices.
All proceeds from the evening go to supporting the OLG Youth Ministry and Boy and Girl Scouts.
Do you have the luck of the Irish?
Raffle tickets will be available for $10 each for a chance to win the Grand Prize: steak dinner for four at the rectory with Fr. Kevin where you will open (and take home!) a 24-year-old bottle of Glenlivet scotch hand filled by Fr. Kevin at the Glinlivit distillery. This very special bottle retails for over $600. Other prizes also available.
Support
Sign-up to volunteer at the Sign-up Genius site HERE.
Interested in sponsoring the Bucca di Beppo pasta bar? Contact Bill Dubbs or Kyle Kirsch.
Cost
Adults $12
Youth (ages 6-12) $6
Children are free
Raffle $10/each